NOTHING SAYS HAWAII BETTER THAN THE
SILHOUETTE OF DIAMOND HEAD CRATER.
Diamond Head is an extinct volcano, and when active stood
about 3500 ft.
Erosion and the Hawaiian Islands continuously sinking reduced
it's height to 761 ft above sea level. The crater has a diameter
of 3250 ft and a floor area of 175 acres.

The name Diamond Head came from British sailors, who mined
calcite crystals they mistook for diamonds in the early 1800's.

Because of it's view, the U.S. military constructed a trail to
the summit in the early 1900's and built an observation post.
During World War II, the observation post was used to
coordinate artillery fire from Fort Derusy in Waikiki.

The hike is moderate ability and approximately 1.5 miles
roundtrip. Hike roundtrip from start of trail is approximately
2 hours.

It is estimated that more than a million hikers reach the summit
of Diamond Head each year.

Every saturday, the Clean Air Team leads a trek up Diamond
Head, from 9:00 AM to 12:00 PM, starting at the Honolulu Zoo.
For more info call 948-3299.

Contact:
587-0166 Land and Natural Resources for maps and trail
information.
973-4381 Oahu weather Forcast.
587-0300 State Parks Division.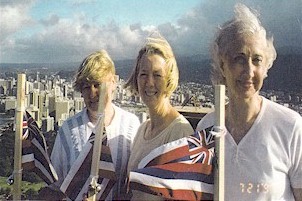 Click below to order your Walking Stick
ORDER YOUR WALKING STICK NOW!
Happy trails while on your ascent to the top of one of the worlds
greatest landmarks with your Diamond Head Walking Stick.
Diamond Head Volcano | Hawaiian Tours | Hawaiian Walking Stick
Hawaiian Souvenirs